Introduction
The Chaos Herald Pyl Helliquary Raid Guide is here to help you to success. Whether it's focusing down his legions of Demon Warriors or avoiding death from all the fire, Pyl is a good introductory fight that you need to be prepared for. Read below for specific boss strategies.
---
Boss Strategy

Boss Information
Location: Westmarch, Palace Courtyard Waypoint, Challenge Rift Entrance, Challenge Rift 6 Rift Guardian
Recommended Combat Rating: N/A
Special Item: Pyl's Flowing Chaos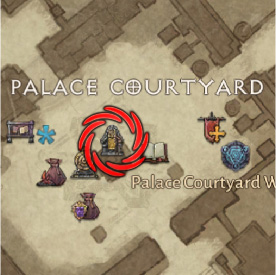 Chaos Herald Pyl is tuned to be moderately difficult, but beatable in a solo fight with your character. There aren't any major one shot mechanics to be cautious about. However, he has four special attacks you should know about.
Occasionally during the fight, Pyl uses a ground attack consisting of three spikes trails radiating outward from him. Look out for it to avoid taking damage and being knocked back. He also spawns multiple Demon Warrior waves throughout the fight. Focus them down first, then continue damaging Pyl.
Pyl has a near-instant full 360 degree AoE attack that deals low to moderate damage when cast. When Pyl raises his staff, top off your health with a Health Potion charge to avoid being killed. Lastly, during the fight, multiple fire circles periodically spawn on the ground. Stay far away from them, as they deal significant damage if you are standing in or close to them.
---
Summary
Take down Demon Warriors waves as soon as possible.
Avoid Pyl's fire circle attacks, as they deal quick amounts of damage!
Use your Health Potion when Pyl's staff is raised to avoid his AoE attack killing you.
Have your best gear equipped and is as fully Upgraded as possible.
Socket as many Legendary and Normal Gems into your equipped gear to further boost your life and damage.
Be smart with your Health Potion usage, as the charges won't refill often during the fight.
---
Credits
Written by Dredscythe
Reviewed by FaceFoot
Changelog
May 21st 2022
Updated for launch
---
---
---