Diablo Immortal Global Launch Schedule
Diablo Immortal will launch on June 2 at 10 a.m. PDT for iOS, Android, and PC in Open Beta. To confirm when Immortal will be fully launched for your region on all platforms, please reference the time map below.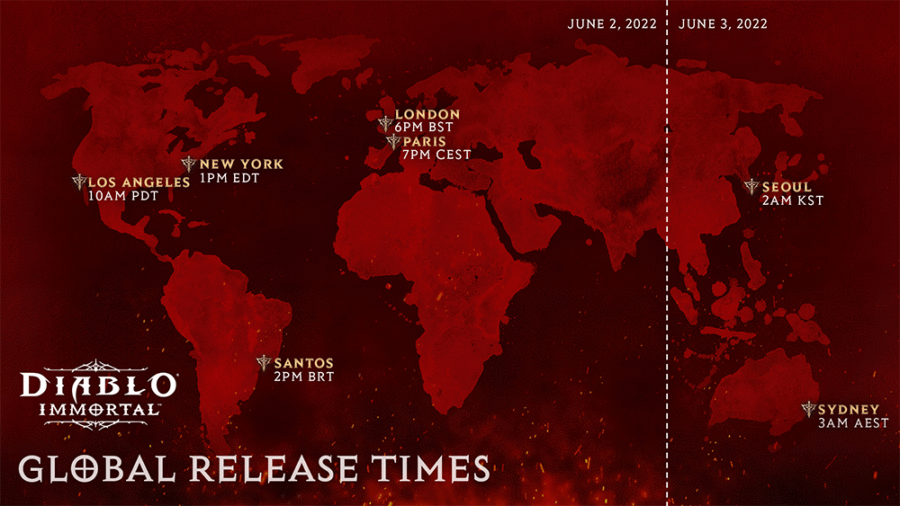 In some Asia Pacific regions, Diablo Immortal will launch for PC in Open Beta, Android, and iOS in some Asia Pacific regions on June 22 at XX am/pm PDT: including Hong Kong, Indonesia, Macao, Malaysia, The Philippines, Singapore, Taiwan, and Thailand. Immortal will also launch on the same date in Vietnam but for PC in Open Beta only. These regions will receive dedicated game servers to bring players better connectivity and ping.
---
Pre-load Diablo Immortal on PC now
Starting today, you can pre-load Diablo Immortal for PC from Battle.net. Heat up your PC in advance, and once Immortal fully launches on June 2, you can kick open the gate to Hell and get to demon slaying in world record pace!
---
Maxroll Updates
Our team has been hard at work to bring you even more Guides & Resources to be well-prepared for the launch:
---
Global Launch Server List
Sin War
Prime Evils
Tree of Inifuss
Soul Siphon
Sandro the Mouth
The Worldstone
The Malus
Iceburn Tear
Helliquary
Arkaine's Valor
Mask of Jeram
Hadriel
Wirt
Lysander
Albrecht
Ureh
Risen Dead
Arcane Sanctuary
Plains of Despair
Meshif
The Last Vestige
Doombringer
Town Portal
Eternal Conflict
Greed
Darkening of Tristram
The Fallen
The Curator
Silver Spire
---
Supported Controllers
Select your Device
Windows Wired Controllers
Windows: Bluetooth Controllers/Proprietary Dongle
Logitech Gamepad F510
Logitech Gamepad F710
Sony Dualshock 3
Sony Dualshock 4
Sony DualSense Controller (PS5)
Nintendo Switch Joycons (via Grip and USB C)
Nintendo Switch Pro Controller (via USB C)
Xbox Adaptive Controller
Xbox Elite Controller
Xbox Elite Controller Series 2
Xbox One Wireless Controller
---
Recommended Hardware for PC and Mobile
Minimum Requirements For PC
Operating System: Windows® 7 / Windows® 8 / Windows® 10 / Windows® 11 (64-bit)
CPU: AMD FX-8100 or Intel Core i3
GPU: NVIDIA® GeForce® GTX 460, ATI Radeon™ HD 6850 or Intel® HD Graphics 530
Memory: 4 GB RAM
Recommended Specifications For PC
Operating System: Windows® 10 / Windows® 11 (64-bit)
CPU: Intel® Core i5 or AMD Ryzen™ 5
GPU: NVIDIA® GeForce® GTX 770 or AMD Radeon™ RX 470
Memory: 8 GB RAM
Android Minimum Requirements
Operating System: Android OS 5.0
CPU: Snapdragon 660 / Exynos 9611
GPU: Adreno 512 / Mali-G72 MP3
Memory: 2GB RAM
iOS Minimum Requirements
Operating System: iOS 11
Hardware: iPhone 6s
---
Video Overview
---
Looking to the Future
We're wishing all of you an amazing Diablo Immortal Launch. If you have any remaining questions or comments, chat with us on Discord with the link below. See you in Sanctuary!
The Diablo Immortal Maxroll Team

---
---