It's Finally Here!
Welcome to all returning patrons and new faces to the Diablo Immortal branch of Maxroll! We have covered Diablo Immortal's development from the first Tech Alpha through its global launch on June 2nd. One-and-a-half years of work have led to this very moment, and we're proud to unveil the full Diablo Immortal Global Launch of our site.
Stay Awhile and Learn.
---
What's New for Launch?
Class Guides 2.0
Before we had 1 major article for each class (the Overview), but that certainly wasn't enough. Feast your eyes on the brand new Leveling, Elder Rift, Challenge Rift, Dungeon, Helliquary and PvP guides for your favorite characters using our brand new Filtering System. It's never been easier to dominate every game mode!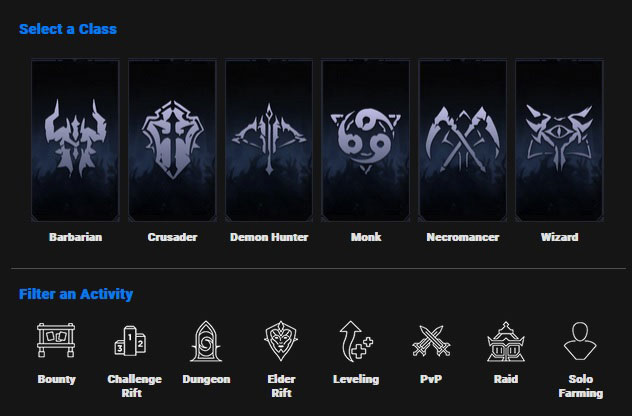 Tier Lists
Can't decide what class to play? Our brand new Tier Lists have you covered. Learn the strengths and weaknesses of each class to forge your destiny!
Embeds Are Here
Remember when our guides used to say "Use Whirlwind to dominate"? After hundreds of hours of work, our site is now covered in beautiful embeds like this: Use Whirlwind with Blood-Soaked Jade to farm thousands of Glowing Shards. #Winning
We have also fully embed character Equipment, Skills and Paragon with sliders to show progression in the guides!
Brand New and Re-worked Guides
Diablo Immortal is constantly changing, which requires us to update our guides and create new ones. We have updated all content across the entire site through the end of the BETA, and have these new guides ready in our brand new Resources Menu:
---
Looking to the Future
We wouldn't be the Maxroll Team if we weren't making additional preparations. We know the game will change and promise to update our guides swiftly (make sure to check the changelog below every Guide). We will cover any new game modes, classes, items, gems etc. that come along the way, and hope to be your one stop shop for all things Immortal.
We're wishing all of you an amazing Diablo Immortal Launch. If you have any remaining questions or comments, chat with us on Discord with the link below. See you in Sanctuary!
The Diablo Immortal Maxroll Team

---
---