Introduction
This is the overview of the perks and what it means to be an Adventurer, one of the three Factions in Diablo Immortal. As opposed to the Shadows and the Immortals, this Faction doesn't have to be chosen as this is where you start the game. It is also separated from the PvP aspects of the Cycle of Strife, which determines who becomes the reigning Immortals.
Being in any Faction does NOT lock you out from grouping up with members of any other Factions despite the rivalry between the Shadows and Immortals. Only the rewards and endgame activities have to be considered when choosing which to join.
---
Being an Adventurer
As an Adventurer, there's a dedicated tab in the hamburger menu (top right corner of the screen) that tells you about the special activities available to you. None of these are exclusive as this just has the regular endgame activities that anyone can do regardless of Faction. They're simply guidelines of what you should do. If you decide to join any other Faction, you will have a similar tab that can be helpful to find and track all the various Faction-specific activities you are able to do then.
While you are an Adventurer, you have access to the Rumors channel in the Adventurer chat tab after reaching level 43. This allows you to track the progress of the Shadows and Immortals in the Cycle of Strife. Other Factions have a similar Faction-specific chat channel to share important information amongst themselves.
Generally, you want to join one of the other two Factions as soon as possible to get access to their specific endgame activities and rewards. As an Adventurer, you are only rewarded with bonus Gold Caches for completing certain amounts of Bounties weekly, which is not very useful for progressing your character.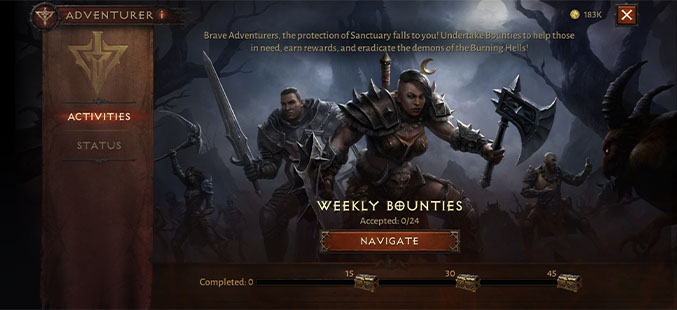 ---
Joining Another Faction
As an Adventurer you have the option to join either the Shadows or the Immortals with certain conditions.
Joining the Shadows
Anyone can join the Shadows through the Shadow Lottery that takes place Wednesday and Saturday at 12p.m., 6p.m. and 9p.m. server time. During this time, head to the Wolf City Tavern on the western side of Westmarch and make your way through the Court of Whispers until you reach the Assembly Hall far in the back. Anyone who is present has a chance to be invited to the Shadow Faction at regular intervals. It's also possible for Shadows to invite others at any time with Akeba's Signet.
The perks of being a Shadow are:
Dark Houses: Can be formed or joined to try and overthrow the Immortals in the Rite of Exile.
Raid the Vault: Special instance that can be looted for lots of Gold and Hilts (and be defended by Immortals).
Contracts: Similar to Bounties but longer with multiple connected quests.
Path of Blood: Short instanced challenges with increasing difficulty that give you one-time rewards.
A stacking damage buff that increases over the duration of an Immortal's reign.
Note: After joining the Shadows, it's impossible to leave the Faction again until the current Cycle of Strife comes to an end.
---
Joining the Immortals
There are two ways to become an Immortal:
Being in the top Dark House as the Shadows overthrow the currently reigning Immortals in the Rite of Exile (together with 9 other Dark Houses).
You get invited by the reigning leader or an officer of the Immortals at any point. The maximum number of Immortals on a server is 500.
In both cases it can be tough to become an Immortal and usually only the top players end up in that Faction (unless you happen to be good friends with them). The perks are that you get increasingly stronger through a stacking buff as the reign continues and their dominance increases and you have access to a special raid instance called Kion's Ordeal that drops special equipment and extra daily quests.
After a Cycle of Strife has ended in a successful Rite of Exile (Shadows overthrowing the reigning Immortals), everyone on the server besides the top Dark House reverts to being an Adventurer.
---
Deeds of Valor
Deeds of Valor are rewarded every time the Cycle Turns to all players who participate with a Faction. You receive a badge based off your performance that gives you a Damage and Life buff starting at 2% each and goes up to 6% at the highest Badge. As an Adventurer there are 3 different badges available with each one requiring a more dominant performance to obtain. Every time the Cycle Turns and a new Immortal is crowned you are rewarded a badge based off 4 categories. To obtain a higher badge, you have to score each of the displayed categories (seen below) with at least their minimum requirement.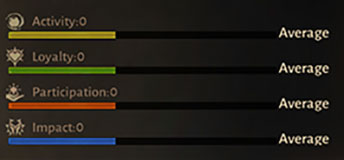 Loyalty - Looks at how long you were a member of your Faction, the more days you were a member the higher the score.
Activity - Judges your overall daily interaction with the game. The more you play, the higher the score.
Participation - Considers how much you actively worked to grow your Faction. As an Adventurer you improve your score through Battleground participation.
Impact - Is calculated by your placement within a Faction when the Reign ended. Adventurers improve their score each day they are active.
Within each category you obtain one of 4 ranks: Average, Good, Very Good or Exceptional. The Rank you achieve in each category will determine which of the 5 badges you obtain. This is based on your score compared to all other Adventurers and is broken down into the following ranges.
| | | | |
| --- | --- | --- | --- |
| Average | Good | Very Good | Exceptional |
| 81-100% | 41-80% | 6-40% | 1-5% |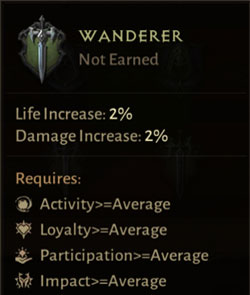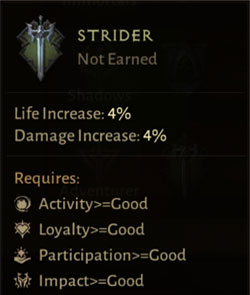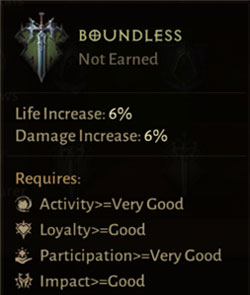 This buff will be active for weeks, potentially months, as they stack up over multiple Cycles. Earning a higher badge gives you a great advantage, so work towards them as you progress. Note that the bonuses for Adventurers are much smaller than those earned by Shadows or Immortals at the higher tiers, so it's best to join either Faction as early as possible for even greater rewards!
---
Summary
Being an Adventurer is the standard way to play the game until you choose to join one of the other two Factions, which is recommended.
There are reasons to join either Faction for endgame activities and extra rewards.
You can still group up and play with players in other Factions, outside of exclusive events.
You can only leave the Immortal Faction. Shadows remain in theirs until the current Cycle of Strife ends.
I hope this overview helps you on your path through Sanctuary! Being part of the different Factions and experiencing their different types of endgame content & rewards can be a great way to spice up the gameplay. Good luck!
---
Credits
Written by wudijo
Contributions by Facefoot
Reviewed by Lexyu, Raxxanterax, Rob
---
Changelog
Apr 26th 2022
Article updated for launch
---
---
---