Introduction
Zone Events are some of the most rewarding activities in Diablo Immortal. Purify the Corruption is an event specific to Dark Wood zone. Unfortunately, completing this event only rewards a Glowing Shard.
Check our Zone Events Guide for additional information.
---
Purify the Corruption Mechanics
Gain Corruption by killing any enemies in Dark Wood. The Corruption meter is specific to you, increases the damage you take and is shared across all difficulties.
When your Corruption meter is full, it can be purified at the Tree of Inifuss in the northeast area. The tree manifests a Shadow Clone you can defeat to earn a Glowing Shard.
Killing the Blood Rose located to the west of the Cursed Grove waypoint gives 28% corruption. A map icon is visible from the waypoint when the Blood Rose is alive. It spawns again 20 minutes after being killed. Each difficulty has its own Blood Rose spawn.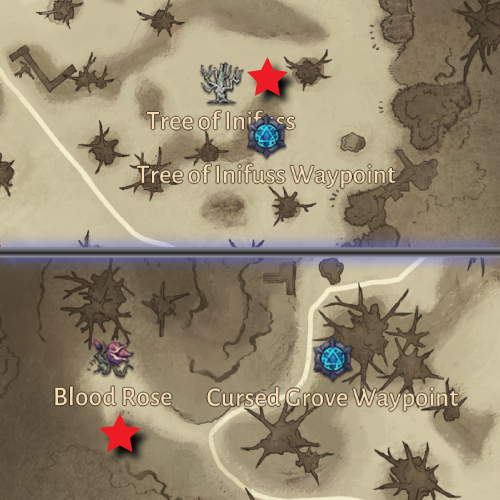 ---
Purify the Corruption Strategy
Timers can be set for the Blood Roses in each difficulty. Killing them is the most efficient way to reach 100% corruption with the least amount of farming. They also have a high chance to drop Legendary equipment.
---
Purify the Corruption Rewards
This event rewards a Glowing Shard instead of Enchanted Dust, making it not worth doing.
---
Other Zone Event Guides
---
Credits
Written by Lexyu
---
Changelog
May 26th 2022
Article published for launch.
---
---
---